Services - Contract Manufacturing
While TPEI's specialty is in servicing the plastics and rubber industries, it takes pride in its ability to reverse-engineer and replicate many other types of high-tech production machinery and components.
Our capabilities include full AutoCAD design and engineering work as well as contract manufacturing for both small and large production runs.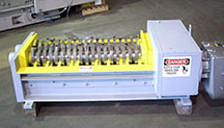 Register now to stay up to date on the latest news and information about our products and services.

It's free and it only takes a minute.
Call or email us for all of your machining and engineering requirements