Products - Turnkey Systems & Controls
TPEI can design fully-integrated processing systems with state-of-the-art control panels to reduce downtime and ensure greater productivity.
Customers supply us with a work envelope, tell us how they would like the machine positioned, and our staff of experienced designers and engineers handle the rest.
Assembled and Tested at Our Facility
The entire machine will be assembled and test run at our facility. All interconnections will be run in conduit, and fixture to a gantry system so that when the machine arrives at your site, the only thing you will need to provide is power and water to the assembly.
Start-Up Within Two Weeks
This knock down bolt-up construction allows for start-ups within two weeks of arrival at a customer's site.
Mixer Assembly or Complete Plant Layout
These systems can include just the mixer assembly, or the complete plant layout including feed streams, and takeaway systems.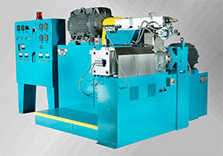 Control Panels

TPEI control panels are state-of-the-art-designed with the custom interlocking capability to enhance monitoring and control of individual line components or complete compounding line.
TPEI incorporates all mixer and extruder functions into one control cabinet which can be located remotely in a cleanroom environment. Our Control Panel cabinets come complete with provisions for a positive pressure, fresh air supply which helps to keep the inside of the cabinet and panel components virtually contaminant free.
Register now to stay up to date on the latest news and information about our products and services.

It's free and it only takes a minute.
Whatever your needs, if we don't stock it, we can build it