Products - Continuous Mixers
With its short L/D (length/diameter), the TPEI mixer can handle heavy fill rates in excess of 80%, making it the versatile workhorse plastics compounders have come to love. Featuring a compact chamber that helps keep dwell times low, the mixer is a perfect match for temperature-sensitive materials.
Models and Sizes
TPEI manufactures a complete line of continuous mixers ranging in size from a 1-inch lab machine, producing up to 50 lbs/hr, up to a 9 inch production line producing as much as 15,000 lbs/hr.
FR
The FR (Free Rotor) model is a 3PC rotor design; the shafts are separate from the rotor body allowing rotors to be changed without disturbing the bearing shafts.
FRE
The FRE model uses the same 3PC rotor design as the FR, but extends the rotor body by one L/D to help extend the feed chamber of the mixer allowing for ease when feeding hard-to-feed or "fluffy" materials. The "E" machines are typically equipped with approximately 30% more horsepower then the standard FR machines.
MACHINE DIMENSIONS

CONTINUOUS MIXERS FEATURES
Standard Options
Three-piece rotor construction
Patented drive end pneumatic visco seals
Two temperature controlled body zones, electrically heated/water cooled
Water cooled feed throat
Various types of gearing
Variable speed AC motor
Rotors constructed from various alloy steels
Custom Options
Rotors
A variety of rotor profiles are available, which can be easily changed due to the three-piece rotor design. Other rotor profiles that are currently being tested and are awaiting patent approval.
Style #15 - All-purpose rotor for most applications
Style #7 - For more sensitive material, for less intense mixing
Double Flighted - Used to help strengthen the rotor as well as meter flow of material into mixing chamber
"Extended" rotor for hard-to-feed materials
"Full Figured" TPEI patented rotor for recycling applications
Smaller rotors (1FR, 2FR, 4FR) can be constructed from powdered metal for high wear
Surface Coatings
Hard Chrome
Cobalt Carbide
Nickel Carbide
Chromium Carbide
Fully Lined Chambers
Powdered Metals
D2
4340 with a coating listed above
Stainless Steel
Chamber Inserts
Mixing Dams
Half Dams
Injection plugs
Can be removed to help vent off moisture from the machine
Discharge Orifices
TiN coated in place of PTFE insert-type orifice
PTFE insert
Electrically heated
Water cooled/steam heated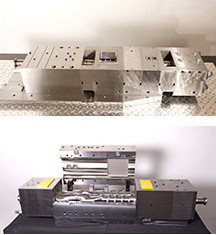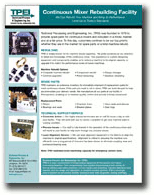 Download for more information
Register now to stay up to date on the latest news and information about our products and services.

It's free and it only takes a minute.
Whatever your needs, if we don't stock it, we can build it