Welcome to TPEI — A leading domestic manufacturer of continuous mixer and single screw extruders for the plastics and rubber industries.
INNOVATION
For over 30 years, TPEI has been in the forefront of innovation in the design and manufacture of state-of-the-art compounding equipment capable of processing a wide variety of thermal plastics and rubber polymers.
SINGLE SOURCE SUPPLIER
From compounding lines to rotor repairs and restacking, machine alterations and rebuilds, and the design and fabrication of complete turnkey systems, TPEI is the single source supplier for processing facilities looking to keep their equipment running profitably.
What's New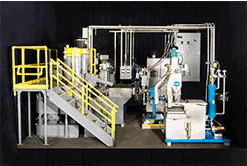 Compounding Line from TPEI is Designed for Quick Cleanup and Concentrate Change
When Breen Color Concentrates, a major supplier of custom color concentrates to the plastics industry, wanted additional capacity, it chose the new state-of-the-art Quick Clean Color Change compounding line from Technical Process and Engineering, Inc. TPEI designed and fabricated the compounding line for quick changeover and cleanup of small lot runs of concentrates that allows for quick cleanup and concentrate change in as little as thirty minutes. The line was shipped as a turnkey system and included the mezzanine, feeders, pre-mixer, interconnecting wiring and pelletizing system permitting the full integration of space, features and footprint all focused on Breen's quality service.
read more >>